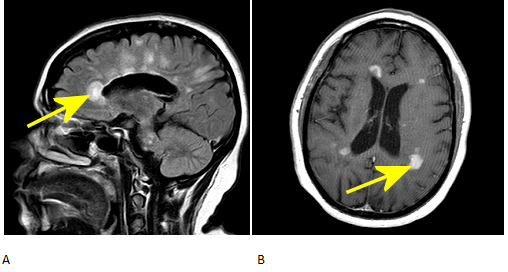 Multiple sclerosis is the most common demyelinaing disease and the most common disabling CNS disease of young adults. The etiology is not certain but likely autoimmune. The disease is characterized by the dissemination of T2 hyperintense white matter plaques across space and time. Extension of these plaques along perimedullary veins perpendicular to the callosum, also known as Dawson's fingers, is a characteristic imaging finding.
Diagnosis: Multiple Sclerosis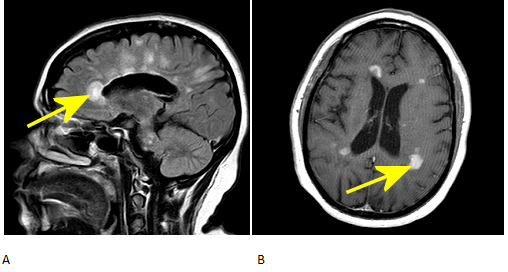 Figure 1: Yellow arrow  A.  Sagittal FLAIR demonstrates numerous ovoid lesions in the white matter extending towards the periventricular and pericallosal white matter. B. Several of these lesions enhance on post contrast T1 images.
Enhancement of the lesions is a sign of active demyelination. Incomplete ring of enhancement around a white matter lesion helps to distinguish a demyelinating plaque from a neoplasm. T1 hypoinstensity within the lesions (also known as "black holes") suggests a chronic plaque.