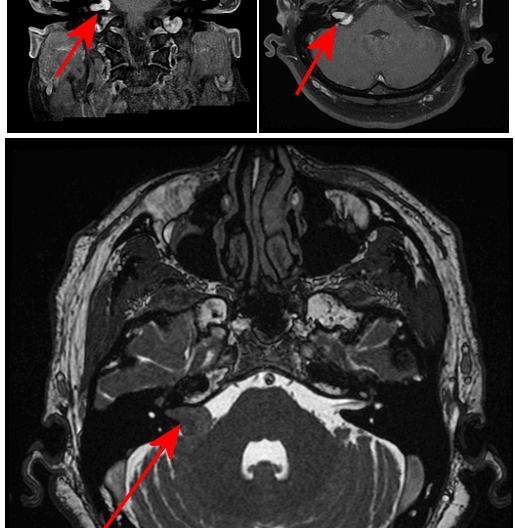 Vestibular schwannomas are benign extra-axial neoplasms that result from proliferation of the schwann cells associated with the eighth (vestibulo-auditory) cranial nerve. The commonly arise in the cerebellopontine angle and may extend along the vestibular and/or auditory nerve into the internal auditory canal..
Diagnosis: Right vestibular schwannoma (formerly, acoustic neuroma)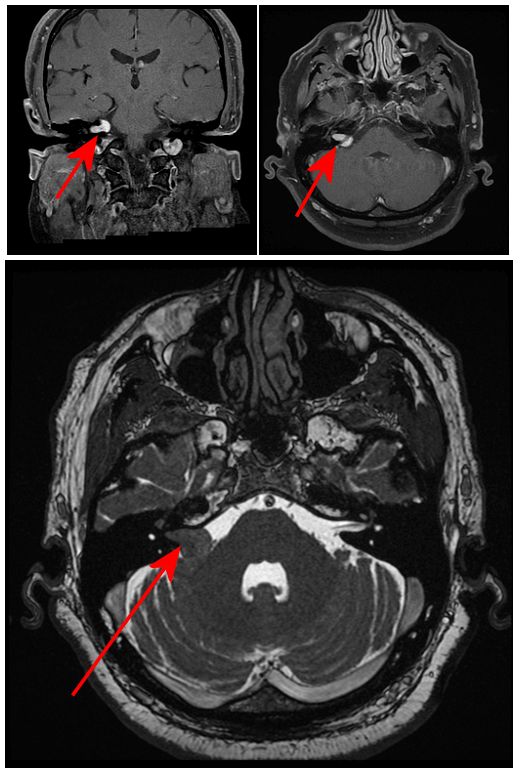 Figure 1: Yellow arrow Top row . Coronal (left) and axial (right) T1 postcontrast images demonstrate a homogenously enhancing ice cram cone shaped right cerebellopontine angle (CPA)  mass extending into the internal auditory canal. Bottom Axial FIESTA (fluid sensitive volumetric acquisition) demonstrates effacement of the extra-axial fluid by the CPA  mass.
Most vestibular schwannomas are avidly and homogenously enhancing although intratumoral cysts and hemorrhage may be present. The ice cream cone shape including extension into the IAC and absence of a dural tail helps distinguish vestibular schwannomas from meningiomas, the other extra-axial tumor commonly found in the CPA. Treatment includes resection, radiosurgery or observation depending on symptoms, tumor size and patient age.