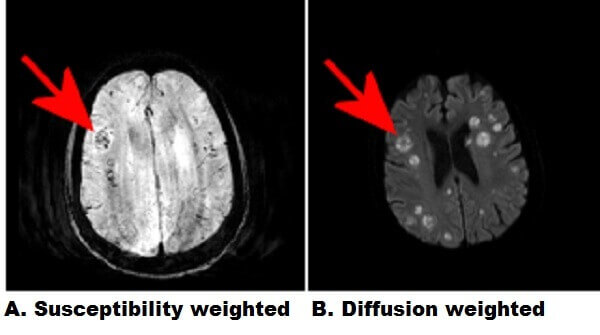 There is an extensive differential for multifocal T2/FlAIR hyperintense lesions in the brain parenchyma including neoplasm (metastasis, lymphoma), infection (abscess, septic emboli), infarct (vasculitis), trauma (diffuse axonal injury) and demyelinating disease (multiple sclerosis). The peripheral distribution at the grey white junction follows regions of greatest blood flow within the brain suggesting a systemic origin like septic emboli and metastasis.
Diagnosis: Septic emboli (presumed)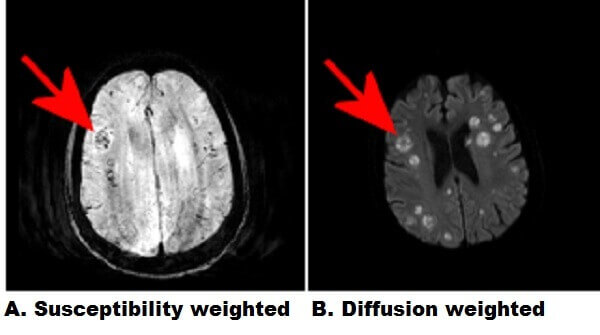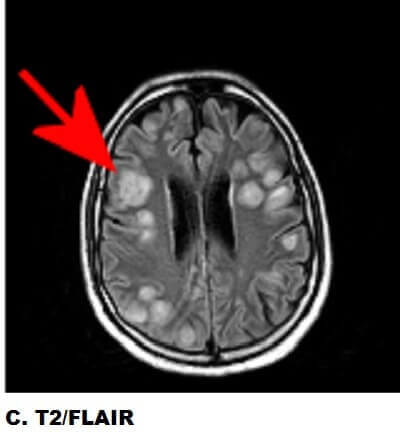 Figure 1: Red arrows. A : Axial susceptibility weighted images demonstrate  multifocal regions of decreased signal (increased susceptibility) suggestive of petechial hemorrhage. B : The lesions demonstrate restricted diffusion (ADC signal is also decreased)  and are situated at the grey-white junction. C : The lesions demonstrate increased T2/FLAIR signal with relatively little vasogenic edema.
Neoplasms generally incite significant vasogenic edema and lack central restricted diffusion, which suggests an infectious process in this case. Septic emboli are infected embolic debris that originate most commonly  from central venous cathethers, thrombophelbitis and endocarditis. Introvenous drug users and immunocompromised patients are predisposed. Multiple cavitary pulmonary lesions can also result from septic emboli.
References:
Learning Radiology. Septic Emboli. Available at : http://www.learningradiology.com/archives05/COW%20136-Septic%20emboli/septicembolicorrect.htm