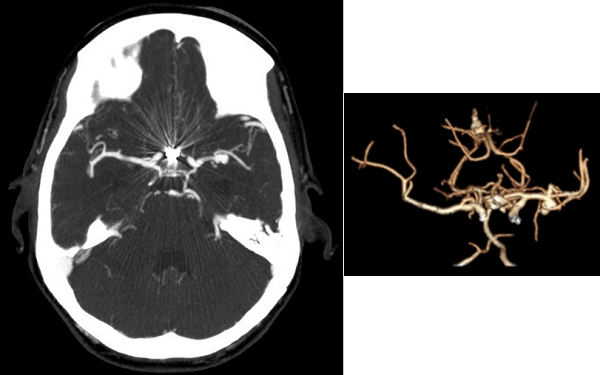 History : 45 year old man with sudden onset of severe headache.
What is the most likely etiology for this patient's intraventricular hemorrhage?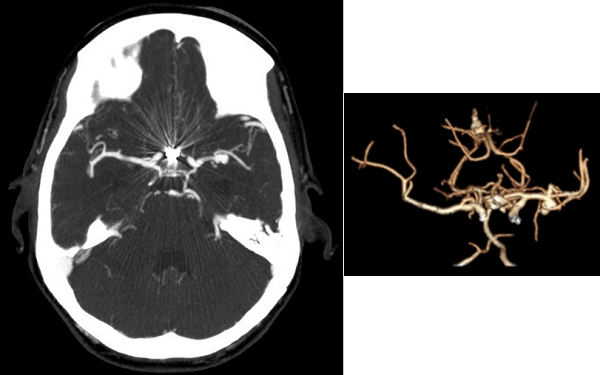 A. cavernous malformation
B. aneurysm
C. hypertensive intracranial hemorrhage
D. AVM
Answer: MCA Aneursym. The images demonstrate an intensely vascular mass in the right supraclinoid region. The mass appears to communicate with the adjacent vasculature and is most consistent with an aneurysm.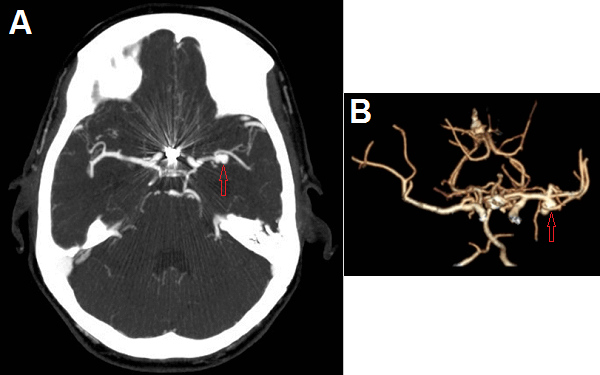 (A) axial CTA head demonstrates a distal left middle cerebral artery (MCA) aneurysm
(B) shaded surface display (SSD) reconstruction demonstrates the 3 dimensions of the  M1 segment aneurysm which incorporates the origin of the inferior division of the M2 segment (blue arrow)
Discussion
Ruptured aneurysms typically produce subarachnoid hemorrhage associated with a classic clinical presentation – the thunderclap headache or worst headache of a patient's life. However, depending on their location, aneurysms can also selectively dissect into the brain parenchyma (proceeding intracranial hemorrhage) or into the ventricles (intraventricular hemorrhage) as in this case.
On a microscopic level, aneurysms typically occur at vascular branch points . On a macroscopic level they predominate in the anterior communicating, internal carotid and middle cerebral arteries
The estimated prevalence of unruptured intracranial aneurysms is 3% . Aneurysm size and posterior fossa location increase the risk of rupture. Rupture carries a high mortality (27-44%) and while neurocritical care and interventional techniques have reduced aneurysm mortality, the optimal approach is to treat at risk aneurysms before they bleed.
Aneurysms can be treated with both open neurosurgical ("clipping") and less invasive interventional neuroradiological techniques ("coiling"). A large randomized multicenter study – the International Subarachnoid Aneurysm Trial ISAT established the superiority of coiling over clipping for the majority of ruptured intracranial aneurysms. Aneurysms of the posterior circulation, those with wide necks are generally still treated with craniotomy and neurosurgical technqiues.
Reference
1: Pierot L, Wakhloo AK. Endovascular treatment of intracranial aneurysms: current status. Stroke. 2013 Jul;44(7):2046-54.